Which Sober Living Software is Right for You?
By
Duaa Mohamed
·
2 minute read
In recent years, the demand for high-quality sober living facilities has seen a significant rise, with more individuals seeking support and guidance in their journey towards sustained sobriety. To effectively manage these facilities and provide residents with the best care possible, administrators must leverage technology to streamline operations. Enter sober living software, a comprehensive solution designed to enhance communication, simplify administrative tasks, and promote a supportive and nurturing environment for residents. At drastically different costs and with an assortment of features, it can be difficult to determine which software will truly maximize your efficiency and save you the everyday stress of running a sober living. In this post, we will explore the essential factors to consider when choosing the right sober living software for your operation.
1. Accessibility
Sober living softwares are meant to reduce stress on the user. If the program is outdated or difficult to use, its purpose is lost. The right software should have an easy-to-use platform that doesn't require a computer science degree to navigate. An intuitive and user-friendly interface will reduce the learning curve for staff members, making the transition to the new system smoother. Additionally, consider whether the software provider offers comprehensive training and ongoing support to maximize the potential benefits of the software for your facility.
2. Billing and Financial Management
Efficient billing and financial management are essential for the smooth running of a recovery facility. Choose a software solution that offers automated billing and invoicing, tracks payments, and manages financial transactions securely. This will not only save time and reduce human error but also ensure that the facility's financial operations are well-organized and transparent.
3. Customer Support and Reliability
It's important to know the company behind the software you're using. A company dedicated to customer service is much easier to communicate with if you have questions, comments, or complaints about the software. It is good to ensure that the staff is easy to get in contact with, and that they truly listen to your input.
4. Features
Sober living softwares can come with features like rent collection, GPS tracking, files, medication tracking, and more. Knowing which of these qualities are integral to your operation, and which are superfluous, can help you in choosing the right software.
We've included a comparison chart of two major softwares in the industry, Sobriety Hub and OneStep, below: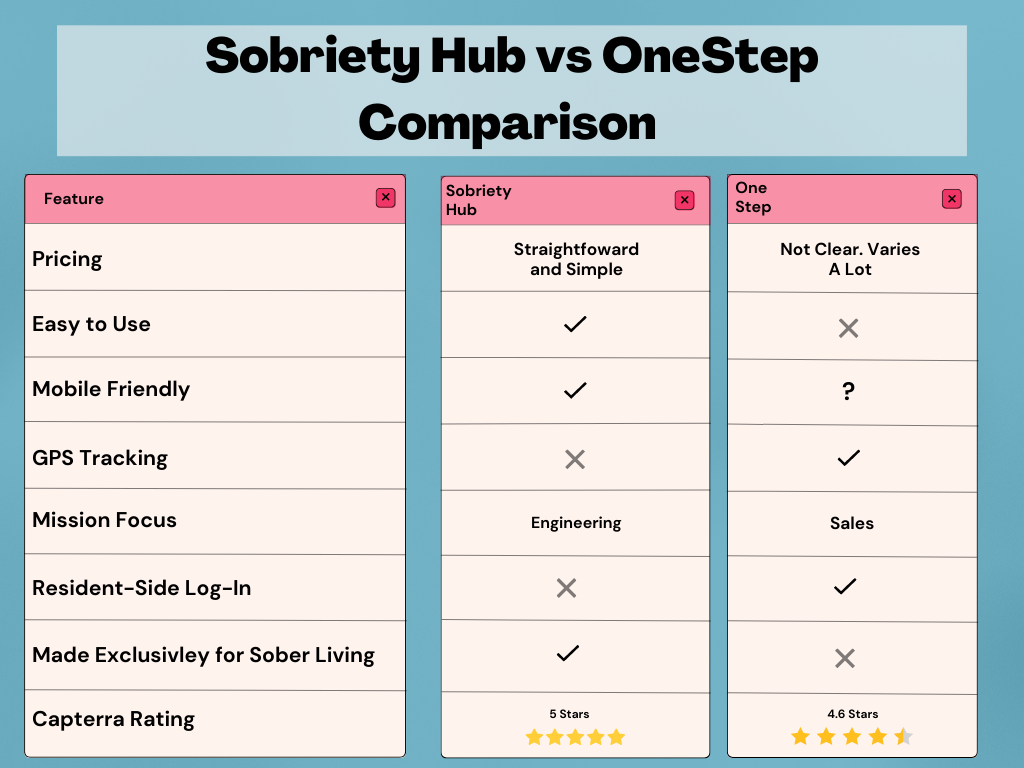 Conclusion
In the digital age, embracing technology is crucial for optimizing operations in sober living facilities. The right sober living software can transform the way your facilities function, streamlining administrative tasks, promoting effective communication, and ultimately enhancing the recovery experience for residents. When choosing the ideal software solution, consider factors such as accessibility, management capabilities, compliance and reporting features, billing and financial management, integrations, data security, and user-friendliness. By making a well-informed decision, recovery facilities can empower their teams to deliver the highest level of care, compassion, and support to residents on their journey to lasting sobriety.